Tom's Love Letters
2.3.1.8
Romantic Game – Tell Your Special Someone How Much You Love Them
Are you in love with someone? Do you want to express your feelings to them but don't know how? If yes, then this romantic game can help you out. Tom's Love Letters is a nice game which lets you compose romantic love letters for your special someone using the help of talking Tom and talking Angela. It gives you the courage to say to your sweetheart how much you love and care for them. To make things easier for you, talking Tom and talking Angela bring you a large collection of romantic cards. You can pick a card from this collection and then personalize it with a message of your own. This card can then be shared with your loved one via multiple methods.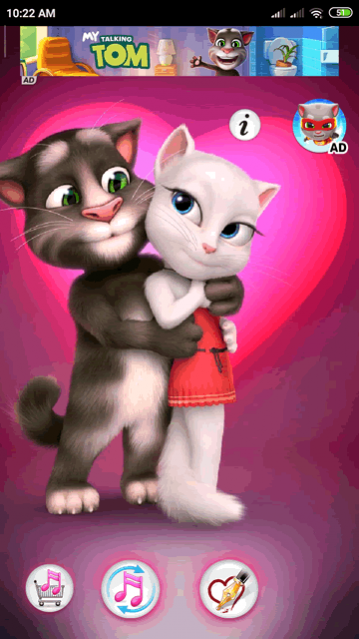 Tom's Love Letters has smooth gameplay and its graphics are pleasing to the eye. The animations of Tom and Angela are very cute and romantic. You just have to click on the screen to see them express their love for one another. It can help you get inspired. Moreover, this romantic game lets you listen to beautiful songs too. These love songs can instantly set the mood and allow you to write your feelings straight from the heart on to the cards. You have four different songs that you can listen to. There is a 'song switch' icon located at the base of the screen which is for changing the song. You can buy the song you are listening to by tapping the 'buy song' icon located next to the 'song switch' icon.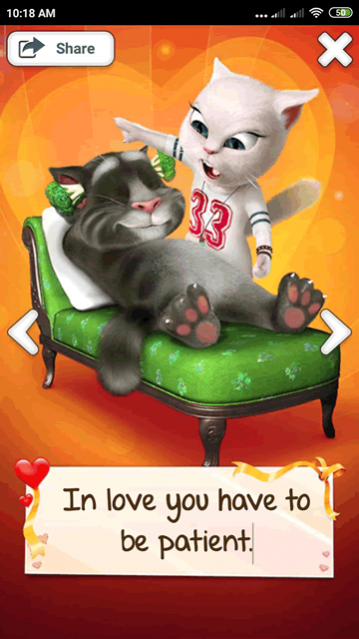 This romantic game provides 19 different cards to you. These cards can be accessed by tapping the icon 'compose card' icon located at the bottom of the screen. Each card has an image of talking Tom and talking Angels displaying the love they share for each other. Aside from the images, there are heartfelt messages written on these cards too. You can pick the card that expresses the feelings you have for your special someone and send it to them by clicking the 'Share' button located at the top-left corner of the screen. There are multiple options available for sending the card, which range from email, WhatsApp and messages. You are also given the option of saving the card in your phone's gallery.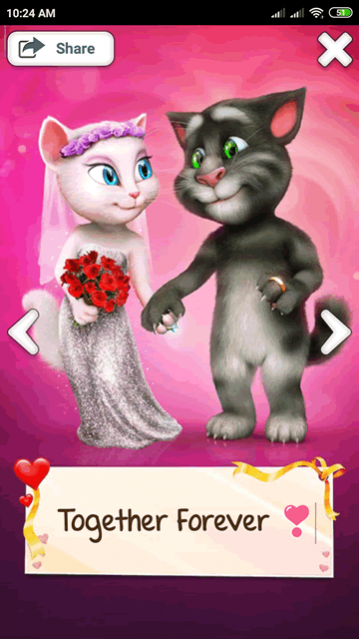 Tom's Love Letters gives you the opportunity to change the text of the postcards too. If you find an image particularly appealing but not the message written underneath it then you can edit it with a simple tap on the message board. Your keyboard will be activated instantly and you can start composing your message. You can write as long a message as you want. There is the option available to add emoticons to the message too. However, do keep in mind that you won't be able to change the font color or the font style. Moreover, you will only be able to choose the emoticons that are available in your phone's keyboard.
Features:
A large collection of romantic cards on offer
Write your own messages on the cards you like
Share the cards with people you love
Listen to beautiful songs while composing love letters
Switch between four romantic songs
Option available to buy the songs you like
Watch Tom and Angela express their love
Conclusion:
Tom's Love Letter is a gaming app which is marketed to all the people who are madly in love with someone. It gives them the chance to express their feelings in a unique way by sending a card to them with a heartfelt message written on it. It is a romantic game worth having on your phone if you are a romantic at heart.
---
Add a review
Tell us your experience with
Tom's Love Letters
2.3.1.8
RELATED PROGRAMS
Our Recommendations
---
---
---
---